Friday, January 24, 7:00 – 9:00 pm, Oakwood Community Center, 313 10th Street, Troy, NY. Save the Date: James Connolly Forum with  Jodi Dean on her new book, "Comrade:  An Essay on Political Belonging".  In the twentieth century, millions of people across the globe addressed each other as "comrade".  Now, among the left, it's more common to hear talk of "allies".  In Comrade, Jodi Dean insists that this shift exemplifies the key problem with the contemporary left:  the substitution of political identity for a relationship of political belonging that must be built, sustained, and defended.  Jodi Dean teaches political, feminist, and media theory in Geneva, NY.  She has written or edited thirteen books, including The Communist Horizon and Crowds and Party, both published by Verso.Hosted by James Connolly Forum.  Co-sponsored by Capital District Democratic Socialists of America, Bethlehem Neighbors for Peace, Capital District Socialist Party, James Connolly Social Club, Upper Hudson Green Party.    Located Exit 9E off 787 Collar City Bridge for Rte 7: on left at 2nd light between 9th and 10th Sts. Parking on left on 9th St., Old Fire station building parking lot left on 10th Use the door facing Hoosick St. Donation of $5 requested, $2 unemployed and students more information: 518 407 3582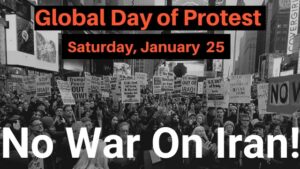 Saturday, January 25, 11:00 – 12:00 PM, Townsend Park, Albany, NY. Antiwar Protest and Rally.  Join people, communities, groups and organizations from across the Capital District and beyond as we join the Global Day of Protest on Saturday, January 25,  at 11:00 a.m. at Townsend Park in Albany. We are a broad representation of individuals and organizations from the Capital Region of New York State, working for all kinds of justice – economic, racial, gender, social, climate, peace, immigration, and more. We come together for justice to say unequivocally that we oppose war against Iran and all wars of imperialist domination and aggression.
"If we do not act for peace, we shall surely be dragged down the long, dark, and shameful corridors of time reserved for those who possess power without compassion, might without morality, and strength without sight." Martin Luther King, Jr.
Register and receive more information at: http://bit.ly/NoIranWarAlbany
Co-sponsored by Citizen Action of New York, NYS Poor People's Campaign, Labor Coalition of NYS, NYS council of Churches, Capital District Coalition Against Islamophobia, Bethlehem Neighbors for Peace.   Facebook Link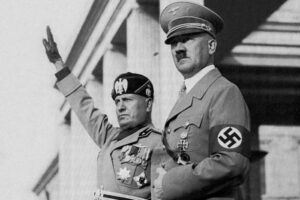 Thursday, February 6, 7:00 – 9:00 pm, Bethlehem Public Library, 451 Delaware Avenue, Delmar, NY. Film:  Fascism in Europe . In this  documentary (2018, 57 minutes), Rick Steves travels back a century to learn how fascism rose and then fell in Europe – taking millions of people with it. He traces fascism's history from its roots in the turbulent aftermath of World War I, when masses of angry people rose up, to the rise of charismatic  leaders who manipulated that anger, and the totalitarian societies they built. Everyone is welcome. Information: 466-1192.  Sponsored by Bethlehem Neighbors for Peace. Facebook Link
Monday, February 24, 4:00 – 5:00 pm, BNP Vigil: "Free Julian Assange", at the Four Corners, intersection of Kenwood and Delaware Aves. in Delmar. Wikileaks founder Julian Assange, who is fighting a legal battle against his extradition to the United States, will only be given an hour to review the evidence that will be presented by the prosecution against him in the next hearing scheduled on January 23. The full extradition trial begins on February 25. The trial will decide whether or not he is to be extradited to stand trial in the US on multiple federal charges of espionage, that may carry a total of 175 years of maximum prison sentence. Possible signs: "Free Julian Assange!", "Solidarity With Julian Assange", "No To Internet Censorship" Join us! Information: 518-466-1192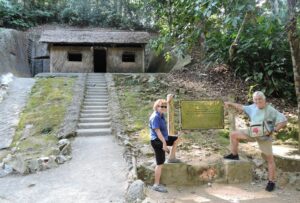 Thursday, March 5, 7:00 – 9:00 pm, Bethlehem Public Library, 451 Delaware Avenue, Delmar, NY. Talk by Teresa Meade and Andor Skotnes on their Fall 2019 Semester in Vietnam. Teresa Meade and Andor Skotnes spent the Fall 2019 semester in Vietnam. They will each give a separate 20 minute presentation, followed by questions and discussion. Teresa Meade will talk about seeing Vietnam through the eyes of the students, or people who are 19-21 years old and for whom the Vietnam War is something they have heard of, but know very little about. Andor Skotnes will discuss being in Vietnam as a former anti-war US protester, and in fact a youthful supporter of the Vietnamese struggle, and about his perceptions of the fate of the  revolution and socialism.
Teresa Meade is the Florence B. Sherwood Professor of History and Culture at Union College, where she teaches Latin American and Caribbean history, Gender, Sexuality and Women's Studies, and courses on inequality and socialism. She is the author of several books and many articles on the history of Latin America, Brazil, US imperialism in Cuba, Central America and the Caribbean. She is on the editorial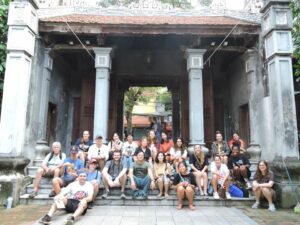 collect of Radical History Review, former president of the Journal of Women's History, and participant in Historians for Peace and Democracy, and Democracy.  Andor Skotnes has been a professor of history at the Sage Colleges in Troy and Albany for nearly thirty years. He teaches and writes on recent U.S. social and cultural history–especially African-American and working class struggle. He also teaches Native American history, the 30s and the 60s in the US, oral history, and South African history. He is on the executive committee of Historians for Peace and Democracy and the editorial collective of Radical History Review. Everyone is welcome. Information: 518-466-1192 Sponsored by Bethlehem Neighbors for Peace. Facebook Link
***********************************************************************
Monday, October 29, 2018, BNP Vigil: "STOP THE HATE" , at the Four Corners, intersection of Kenwood and Delaware Aves. in Delmar

Past BNP Sponsored Events: