Past Events 2003: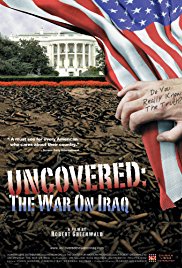 Free Screening of the Groundbreaking New Film:
"Uncovered:The Whole Truth About the Iraq War"
Sunday Dec. 7, 4:00 p.m., Bethlehem Town Hall, Auditorium, 445Delaware Ave, Delmar
Film Screening: 4:00- 5:00 p.m. Discussion of the film and the issues: 5:00 – 6:00p.m.
About the film: This controversial and arresting film takes you behind the walls of government, as CIA, Pentagon and foreign service experts speak out, many for the first time, detailing the lies, misstatements and exaggerations that served as the reasons to fight a "preemptive" war that wasn't necessary. This documentary offers an in-depth look at the unsettling distortion of intelligence and the "spin and hype" presented to the American people, the Congress and the press. Fighting wars to bring about regime change is in breach of international law. Yet,throughout the fall of 2002, and into the weeks preceding the war in Iraq, the Bush administration systematically distorted intelligence evidence and misled the public in order to turn opinion favor of "regime change" in Iraq.
The film will present interviews with more than 20 experts, all of whom have informed opinions about the reasons we were given for war and the evidence presented to support those reasons. Some supported the war itself but are deeply concerned about the way information was misused. All believe it is their duty to speak up.
Among those interviewed are former Ambassador Joe Wilson, weapons inspectors Scott Ritter and David Albright, anti-terrorism expert Rand Beers, former CIA analyst Ray McGovern, former CIA operative Robert Baer and Washington editor of The Nation, David Corn.
For more info. including video clips:  http://www.truthuncovered.com/home.cfm
Weathering the Politics of Fear: Personal Accounts of Coping with Political Repression and Discrimination
A Public Forum presented by
Bethlehem Neighbors for Peace
Thursday November 13, Delmar Reformed Church; 7:00 p.m.
386 Delaware Ave. (at the "Four Corners")
This forum will feature: Imam Warithu-Deen Umar, founder and president of the National Association of Muslim Chaplains, retired after 25 years as Chaplain, Supervisor/Trainer and Ministerial Program Coordinator for the NYS Department of Correctional Services, where he supervised all religious services, Christian,Jewish and Islamic, in the Western region of the state. Helen Adler, long associated with the Humanities Institute of Life-long Learning at the Bethlehem Public Library, story teller Joni Goldberg, and Dr. Mo Hannah, Associate Professor of Psychology, Siena College. This Bethlehem Neighbors for Peace public forum is a part of a week-long examination of the impacts of and defenses against the political misuse of real and imagined fear and culminating in a full-day conference (see below).

Confronting the Politics of Fear:
A People's Assembly
Saturday,November 15, Albany High School
8:30 a.m. – 6:30 p.m.
Many local organizations are coming together for this important gathering at Albany High School to build the movement for peace and justice in the Capital District. Keynote speakers are Damu Smith,Founder and Director of Black Voices for Peace, and William Rivers Pitt,Managing Editor of Truthout.org and author of War on Iraq; What Team Bush Doesn't Want You to Know and The Greatest Sedition Is Silence. Dozens of workshops on ending the occupation of Iraq;corporate globalization / FTAA; confronting racism; Middle East; ;electoral politics; independent media; grassroots activism; and much more. Don't miss this event! To pre-register ($25 suggested donation) contact [email protected],or 869-6674. Bethlehem Neighbors for Peace is one of the sponsors of this major local event. Visit the conference website.
Update and Action Alert to BNP Members from BBORDC
At its meeting of 10/14, the BBORDC (Bethlehem Bill of Rights Defense Committee) made the following decisions. Due to difficulties in getting the necessary support to go forward at this point even with a revised resolution, we have agreed that we will no longer attempt to get this particular board to pass a resolution. In January we will begin again with the newly elected board. We have also decided that we will hold off on placing our ad in the Spotlight until we begin our campaign with the newly elected board. Finally, we have agreed to hold another forum on the USA Patriot Act in January and have set the date for Sunday, January11, from 2 to 4, location to be announced.
Between now and January, we will be engaging in the following actions and seek BNP member support:
1)letters to the editor in the Spotlight every week dealing with some aspect of the civil liberties/ Patriot Act issue
2)letters to George Lenhardt urging him to
support the revised resolution
3) a petition drive to get resident signatures in support of our resolution
These actions are informed by our belief that it is important to keep our issue before the public, hence the letters to the editor.
We also believe that George Lenhardt, who will be continuing on the board, left the door open for a change of mind on this subject;hence the need to convince him that this is a local issue and that there is local support for it. Finally, we hope the petition drive will educate people as well as provide evidence of support for our resolution. We ask BNP members to write letters to the editor of the Spotlight, letters to Lenhardt, and to help us with the petition drive. For more information on how you can help with the petition drive, call or email Andy Coates (475-9257;[email protected]), Judith Fetterley (475-1773;[email protected]); or Jane Streiff (439-4673).
The BBORDC welcomes suggestions from BNP members as to how to proceed on getting a resolution passed by the Town Board. We also would love to welcome new members; we can use some fresh energy as we move into our second season of effort. To share suggestions and/or express interest in joining BBORDC, call or email Judith Fetterley. Our next meeting will be on Wednesday, November 12, at7 at the home of Judith Fetterley. Those interested in knowing more about the national BORDC should check out the BORDC.orgwebsite.
Michael Parenti Forum
by Leslie Hudson and Dan Rain
October6, 2003
Over250 people gathered at Page Hall on Tuesday, Sept. 30th to hear internationally known author and lecturer Michael Parenti speak on the subject of U.S. aggression and corporate globalization. During this most recent Bethlehem Neighbors for Peace public forum,co-sponsored by SUNY Peace and Justice and Campus Action, Dr.Parenti gave an historical analysis of U.S. foreign policy. He specifically cited dozens of examples which demonstrate a pattern of U.S. military and CIA-backed involvement in the invasion and overthrow of (often democratically elected) governments of other sovereign nations. The leaders of these states had in common the desire to use their resources for the betterment of their own people, and made the fatal mistake of challenging the dominant paradigm of global capitalism and "free" trade at the people's expense.
These coups and invasions, perpetrated to enhance foreign investment opportunities, have resulted in the deaths of millions of people and the destruction of countless others' lives worldwide. The U.S.uses the slogans of "freedom" and "democracy"as motives for these invasions, while in fact destroying those very ideals and replacing them with fascism. Dr. Parenti's assessment of this pattern of U.S. foreign policy is that it has been carried out through a highly intelligent and well-planned conspiracy of the economic elite; and that it has, unfortunately for the majority of the world's citizens, been remarkably successful in achieving its objectives while deceiving the American public in the process.
Some pundits have tried to argue that American motives in these invasions are not primarily economic, by suggesting that protecting a few billion dollars of investment with hundreds of billions worth of military intervention doesn't offer a good return. However, an important distinction Dr. Parenti asks us to remember, is that these interventions cost hundreds of billions of dollars of taxpayer money, while they protect a few billion dollars of private investment money. "In fact," Parenti quipped to strong audience laughter, "the people who own the world usually spare no expense in using your money to protect their money."
Dr.Parenti explained that some of his students at U.C. Berkeley have disagreed with his critique of our national leaders, citing their"faith" and "trust in the president.""Democracy isn't about trust," he reminds his student sand all of us, "it's about distrust," about numerous checks and balances and open accountability to the people. During his concluding remarks, he reminded the audience that democracy is about action. We all need to take action, if we hope to take back our country from the hands of the few, rich elite who currently control our nation and the world. He recommends that we continue to organize and protest, write and email our representatives in government, get out the vote in the 2004 presidential election to replace Bush, speak our minds and speak the truth. For more information about Parenti and his 17 books, visit www.MichaelParenti.org. For more information about Bethlehem Neighbors for Peace and our future public forums and other events,please visit www.BethlehemforPeace.org.
MassVigil on Sept. 11
One hundred and fifty people attended the Bethlehem Neighbors of Peace September 11 Vigil for Peace. The candle light vigil was organized in honor of those who died on September 11, 2001 and the 2 wars in the 2 years that have followed. Hy Kuritz, a World War II veteran,retired SUNY History and Education Professor and member of Bethlehem Neighbors for Peace gave a moving and informative talk.Statements were then welcomed from any participant and moving statements were given by many, from the very young to seniors,veterans and others. The vigil was one of the 120 national Circle of Hope vigils organized around the country in support of Peaceful Tomorrows, a group of family member of people who died on9/11/2001 who have united to turn their grief into action for a peaceful world. Their website iswww.peacefultomorrows.org.
ScottRitter Speaks at the Bethlehem Town Hall
Former UN Weapons Inspector and Bethlehem resident Scott Ritter was the
featured speaker at the latest forum sponsored by Bethlehem Neighbors for Peace.
Nearly 400 people packed the main auditorium at the Bethlehem Town Hall to
hear Ritter's talk,entitled "The Other Face of Patriotism." The standing
room-only crowd heard Scott Ritter discuss the falsifications used by the Bush
administration to lead the country into an unjustified war against Iraq. Ritter
asserted that the administration's main claim–that Iraq had weapons of mass
destruction–has proven to be incorrect; therefore,there was no
justification for the war. He explained that patriotism is not blindly following
whatever policies the government puts forward but making one's voice heard, even if
it is in opposition to those polices. The talk was followed by a 45minute
question-and-answer period.
Ritter's talk was especially relevant given the recent revelation that
the statement made in Bush's State of the Union address regarding Iraq's
acquisition of nuclear material from Niger was false.This news, coupled with the
continued inability of the US forces to find any evidence of weapons of mass
destruction and the increasing resistance of the Iraqi people to the US
occupation, has been swaying US public opinion against the Bush administration's
policies on Iraq.
The forum also announced the recent publication of Ritter's new book,
"Frontier Justice: Weapons of Mass Destruction and the Bushwacking of America."
The book will soon be  available in book stores.
The crowd at the forum gave Scott Ritter a very warm reception for
his courage in continuing to speak the truth to power.Ritter was given
standing ovations at both the beginning and the end of his presentation.
WAR ON THE BILL OF RIGHTS?
A FORUM ON THE USA PATRIOT ACT
On SUNDAY JUNE 8, at the BETHLEHEM TOWN Hall,125peopleheard a forum on the War on the Bill of Rights and the Patriot Act. The speakers include: Melanie Trimble, Executive Director, Capital District New York Civil Liberties Union; Susan Novotny, Owner, The Book House of Stuyvesant Plaza; Barbara Nichols Randall, Director, Guilderland Public Library; Barbara Weiner, Greater Upstate Law Project and the meeting was chaired by Judith Fetterley, Distinguished Teaching Professor andDean of Undergraduate Studies at the University at Albany/SUNY.

The speakers gave very informed presentations on the attacks on civil liberties since 9/11 and especially on the patriot act and its implications for civil liberties. A one-hour discussion period followed the presentations. The discussion indicated a depth of feeling about these attacks within the Bethlehem community.

The forum was organized by the Bethlehem Bill of Rights Defense Committee, which is a sub-committee of Bethlehem Neighbors for Peace. Judith Fetterley, representing the committee explained that the Bill of Rights Defense Committee and Bethlehem Neighbors for Peace will be pursuing a resolution from the Bethlehem Town Board in support of civil liberties and against the Patriot Act.

Links related to this subject and pictures of the forum are below.